Wat is een "sensorische body sock"?
---
Een bodysock is een soort kledingstuk dat je kunt dragen om je lichaam te omhullen en te stimuleren. Het lijkt op een strakke, elastische sok die je hele lichaam bedekt, van je voeten tot je nek. Dit kledingstuk is gemaakt van zacht, rekbaar materiaal en biedt een zachte, omhullende druk op het lichaam, wat kan helpen bij het verminderen van stress en angst, en het bevorderen van ontspanning.
Op een speelse manier tot rust komen met een Sensorische lichaamssok. Eens je je in de sok bevindt kan je al jouw prikkels en energie kwijt door creatief te bewegen.
Hoewel het dragen van een bodysock misschien een beetje vreemd klinkt, is het eigenlijk een zeer effectieve manier om het lichaam te kalmeren en te ontspannen. Het kan vooral nuttig zijn voor mensen die last hebben van sensorische problemen, zoals autisme of ADHD, omdat het hen kan helpen zich meer gecentreerd en comfortabel te voelen. De Sensorische Body Sock biedt een heerlijke ervaring waarbij je je veilig en geborgen voelt. Het voelt als een omhelzing of knuffel en kan helpen om stress en angst te verminderen. De sok bestaat uit zacht en zeer rekbaar materiaal (spandex) zoals bij de Sensorische slaaptunnel.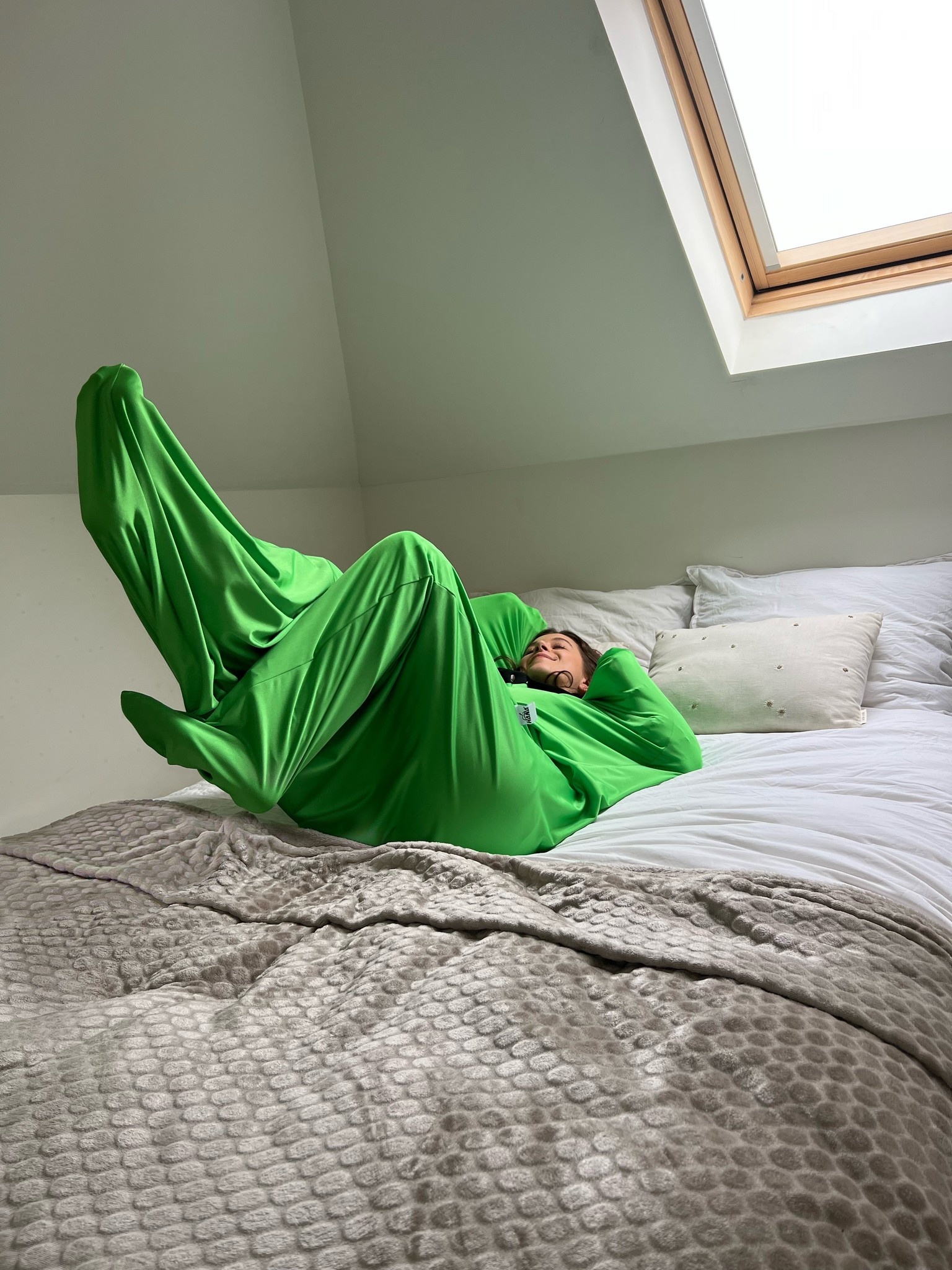 Een van de voordelen van het dragen van een bodysock is dat het de proprioceptie verbetert. Proprioceptie is het vermogen van het lichaam om de positie, beweging en kracht van de verschillende delen van het lichaam te voelen. Wanneer deze sensatie verstoord is, kan dit leiden tot problemen met evenwicht, coördinatie en beweging. Het dragen van een bodysock kan de proprioceptie verbeteren door het lichaam te omhullen en een constante druk op de huid uit te oefenen, wat kan helpen bij het herstellen van een gevoel van lichaamsbewustzijn.
Een ander voordeel van het dragen van een bodysock is dat het kan helpen bij het verminderen van stress en angst. De zachte druk die wordt uitgeoefend door het kledingstuk kan helpen bij het verminderen van de cortisolspiegel in het lichaam, wat de stressrespons kan verminderen. Het kan ook helpen bij het stimuleren van het parasympathische zenuwstelsel, wat kan leiden tot een gevoel van ontspanning en kalmte.
Hoewel het dragen van een bodysock vooral populair is bij kinderen met sensorische problemen, kan het ook nuttig zijn voor volwassenen die stress en angst ervaren. Er zijn verschillende soorten bodysocks beschikbaar, variërend in grootte, kleur en materiaal. Het is belangrijk om er een te kiezen die past bij jouw specifieke behoeften en voorkeuren. Dit is een leuk alternatief voor personen waarvoor het verzwaringsdeken net iets te zwaar is.
Of je nu iemand met sensorische problemen bent of gewoon op zoek bent naar een manier om je stress te verminderen, een bodysock kan een waardevolle aanvulling zijn op je dagelijkse routine.